this past weekend i ran the securian frozen half marathon in saint paul. my preparation started friday evening by making my feet look pretty. you see i had an ugly toenail. it was black and blue and unsightly so anastasia(my daughter) painted it purple for good luck. take a look at the photos.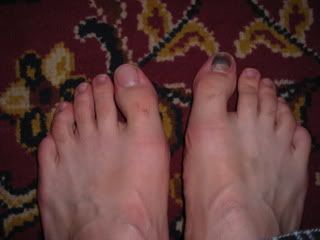 before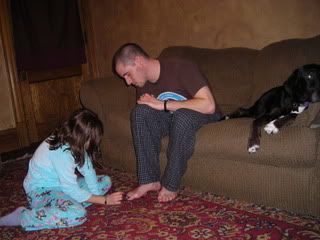 making it pretty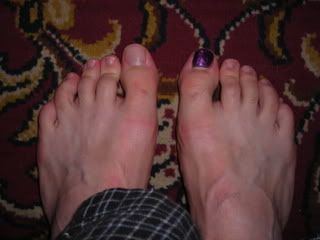 much better!
on saturday morning the lovely carly got up a little early and made me oatmeal for breakfast! thats the best race support there is! after eating my fill we headed off to the race. i got my race number and we started hunting for a super secret indoor bathroom. we were given some information by an informant who works in the building but when we got there it was locked. damn we wold have to use the outdoor port a pottys with all the other racers. while waiting in line i saw steve of
steve in a speedo
fame and had a quick chat. we ended up lining up together at the start of the race but once we started he took off like we were running a 5k instead of a half marathon. my goal was to use this race as a training run and not try for a pr. i had a 1:45 goal which is a 8 min pace. once i hit the 2 mile mark in 15 minutes i realized i was running faster than i wanted to and slowed my pace. i made a point as i always do to high five the kids who come out to cheer and hold out their hands but im not sure who likes that more, them or me. shortly before the turnaround i saw steve on his way back and we shouted to eachother but due to his speed and the doppler effect all i heard was eeeewwwwooooowwww. after i hit the halfway point and started my way back it started snowing which was amazing. i love running in the snow. i wished it had snowed harder but i will take what i can get. the second half was harder than the first because it was more uphill. as i neared the finish line i heard my name being yelled from both sides of the course which made me feel like a rock star. as i neared the end of the race i saw my family and friends standing at the finish so i was able to high five my daughter as i crossed the line.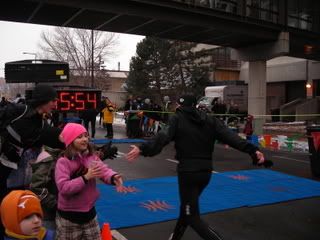 definitely the best way to end any race. i ended up crossing the line in 1:45:55 on the race clock but my chip time was 1:45:22. i was happy with the run and my knee didnt hurt at all afterwards. must have been because of my lucky toe.
later that night we attended a rockin party at steve and pharmies house. thanks guys!
here are the official results.