i only managed one workout this weekend and that sucks. the only redeeming thing about that is the reason i was unable to workout. i donated blood. once a year the red cross comes to my place of employment to draw blood donations and since i have blood i decided i should donate.
it was a pretty sweet deal. i got a 45 minute break and got to lounge around while answering questions about my sex history, drug use and travel destinations. it was like some goofy game of truth or dare and since i answered all the questions correctly they jabbed me with a large needle. that was the dare.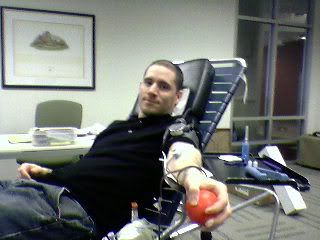 but it wasnt that bad, and i feel good knowing that my blood will hopefully save someones life. when i finished they gave me two cans of cranberry juce, two packages of shortbread cookies, one package of oreos and a box of raisins. after eating my snacks i went to lunch! i also learned that i have a higher than average amount of hemoglobin in my blood which i was excited to hear since i am an endurance athlete.
i skipped my workout friday since i had just lost a pint of blood but headed to the gym saturday with the idea that i would take it easy. i planned to spin for 45 minutes before heading to the pool for some quality time with my old friend, the black line. i hopped onto the bike and started off really easy. ridiculously easy. i was pedaling a whole 5 miles an hour and felt out of breath. i checked my heart rate after a few minutes and was astonished that it was at 155 bpm! thats what its normally at when im riding 20 mph. i broke out laughing at myself and decided it was time to stop. i chalked it up to my blood donation and instead of swimming laps in the big boy pool i headed for the kids pool to play with anastaisa. i usually do this after my workout but for saturday it
was
my workout.
on sunday my brother in law, andy, and i planned to run together. we mapped out a sweet route from his house to the ywca. 8 miles of paved trail that ends a block from the y where we could immediately immerse ourselves in the hot tub. we met in the parking lot, left my car there and drove his car back to his house.
on saturday it was 21 degrees f with light snow. perfect running weather. when we headed out the door on sunday it was -39 f with 20 mph winds. the trail was completely covered in snow and ice from saturdays snowfall. the longest andy had ever run was 6.5 miles 2 weeks ago so we decided to keep it at an 8 minute pace and not push too hard. it was also the first time he brought water on a run. (he was a wrestler in college and and is used to dehydrating himself to meet a certain weight class. not a good idea in endurance sports.) we werent 4 blocks from his house before my eyelids started freezing shut and by mile 2 i was feeling like shit. i figured i wasnt back up to 100% but was able to keep going since we were at an easy pace. having someone to talk to made the time fly by despite the cold bitter wind. we made it to the y in 1:05:20. a bit off our 1:04 goal but given the conditions and it being andys longest run of his life i was happy with our time. we snapped a quick photo with my phone before heading into the hot tub to thaw.
you can see the ice on my eyelashes and that isnt a fashionable earring on andys left ear. that is an icicle!
after a nice soak we headed home. i managed to stay indoors for the rest of the day.